The Color Conserve Daily Color Protect from Aveda is part of the Color Conserve line, used to help prevent color fading for up to 6 weeks. The products work great when used all together, but can also be beneficial when used with other Aveda products.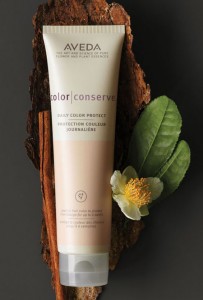 This daily leave-in treatment seals in color and helps protect it from fading for up to six
weeks while infusing hair with moisture and illuminating shine. The Daily Color Protect pure-formance aroma is a fresh and uplifting, featuring certified organic lavender, ylang ylang, peppermint, rose geranium and grapefruit.

The functional botanicals in the Daily Color Protect are:
• Larch tree extract: helps seal in color to help
prevent it from coming out (see picture below)
• Green tea extract: helps defend hair from
environmental aggressors and free radicals
• Derivations of wintergreen and cinnamon bark 
oils: help protect hair from damage and color
fading due to sun exposure
• Blend of organic baobab, castor and sunflower 
oils: adds illuminating shine, instantly increasing
color vibrancy
• Organic glycerin: infuses hair with moisture