All of the products in the Dry Remedy line are unique compared to other lines from different brands. The Dry Remedy line contains buriti oil from the "Tree of Life". The buriti tree, in South America, is called the "Tree of Life" because it is only found near water, therefore if you find the tree, you've found a water source.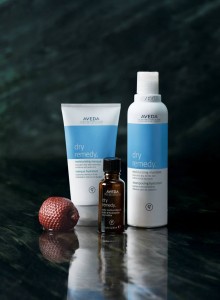 The new  star product of this line is the Dry Remedy Moisturizing Oil. Aveda Dry Remedy™ Daily Moisturizing Oil is a naturally derived, daily leave-in hair treatment that deeply hydrates dry, brittle hair, to instantly make it soft, supple and shiny. The formula's key ingredient is the lightweight yet luscious Buriti oil, a richly moisturising ingredient harvested from the fruit of the Moriche Palm. The oil works to penetrate the hair, instantly increasing hydration without leaving behind greasy residue. Hair is left soft, shiny and manageable.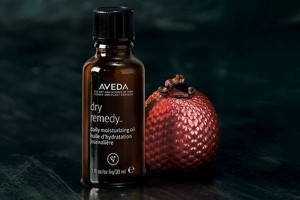 Usage:
Apply 1-2 drops of oil to your hands, emulsify, and smooth from mid length to ends through half of your hair. Repeat for second half. (Do not use more than 5 drops, remember less is more!)
Gently comb your fingers through your hair to evenly distribute.
With residual oil on your hands, gently smooth over your crown for more shine and fewer flyaways.
 the oil can be added to dry hair before you shampoo to help lock in moisture, prevent over drying, and make your Aveda shampoo perform even better.
To learn more about buriti oil and where it is found, click the link below:
http://www.aveda.com/video_library/category.tmpl#video_ingredient-stories_buriti