The Importance of Prebooking!!
                                    ** All stylists are now 4-6 weeks booked in advance **                               (for evening & Saturday appointments.)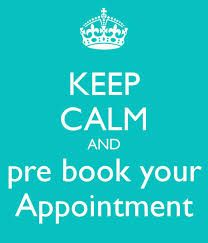 What does PreBooking mean?

Booking your next appointment before you leave the salon. Not calling a few weeks later.

Why would I prebook?

To guarantee you get the day and time you want.

I never know my schedule –

Book an appointment anyway so you have one! Then if it doesn't work out call ahead of time to reschedule.

What happens if I don't prebook?

The most popular appointments are evenings and weekends, they are now booking 4-6 weeks in advance! So if you call a week before hoping to get in, you wont be able to.

How soon should I book a special occasion?

Grads & Weddings book 2-5 months in advance.