A huge part of getting your flat iron curls to turn out is using the right kind of flat iron! When picking out a flat iron that's good for curling, look for one that has 1″ plates, has rounded edges, and gets somewhat hot on the outside of the plates as well.  Our favorite is the Fixx by Aveda flat iron.  Also, don't be fooled by those kiosks in the mall claiming their flat irons are the only ones designed to curl and straighten.  If a flat iron has 1″ plates or smaller, has rounded edges and gets hot on the outside, you can curl with it.
1. Start with dry hair that's either straight or wavy. Take your hot straightener and clamp it down half way down the strand of hair. This is our preferred placement for big loose curls, but if you just want to perk up your ends, start about ¾ of the way down the strand.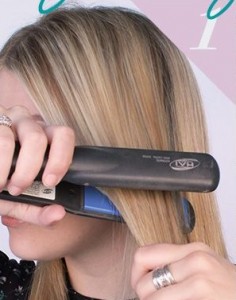 2. Next comes the key move. Lift your elbow upwards, while clamping the hair.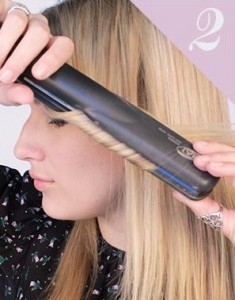 3. In an outward motion, twirl your hair around the barrel of the straightener, leaving the ends out for a more relaxed look. For perfectly polished, bouncy curls include the ends.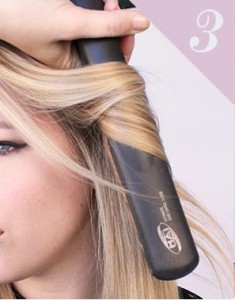 4. Repeat steps two and three with one-inch sections all the way around your head. 
5. For a more relaxed curl, run your fingers through your hair with a smoothing serum or cream and finish with a medium hold hairspray!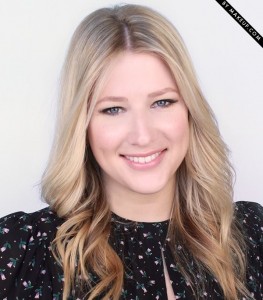 Tips:
If your curl isn't very curly:

  slide the flat iron more slowly down the hair strand, giving it more time to get each part of the hair hot enough.  You can also try taking a smaller section.  Flat iron curls also work best on clean, smooth hair.  If there is too much product or if it's too tangled it won't curl as well.  

If your curl is only curled at the very ends

:  Spend more time curling at the top of the strand than at the ends.  Sometimes you need to hold the flat iron longer at the top to make sure it's curled.  

If your curls are kinked:

  Your gripping the flat iron closed too tightly.  You don't need to grip it really tight to get it to curl.  Try holding it closed a little more softly.