For the Stella McCartney Resort 2015 show, Aveda Guest Artist Frank Rizzieri created soft, simple 1970s style waves. These natural-looking, lived-in waves are perfect for an everyday look that is simple, yet chic. See how it's done!
Step 1: Dampen and divide hair into a top and bottom section. Apply Aveda Smooth Infusion Naturally Straight to the bottom section first to set the foundation for a beautiful frizz-free straight style. Repeat the application on the top section and blow-dry with a diffuser.
Step 2:  To add texture to the hair before styling, spray Aveda Pure Abundance™ Style Prep all over.
Step 3: Blast again with a diffuser and create a gentle center part with a wide tooth comb. Tuck hair behind both ears, away from face.
Step 4: Using a 1½-inch double barrel curling iron, wrap the ends of the hair around the barrel to create loose bends and waves all over. Or alternate two different sized curling irons if you don't have a double barrel iron.
Step 5: Finish off the look by gently running Aveda Dry Remedy™ Daily Moisturizing Oil through hair for added shine and tousle for a natural feel.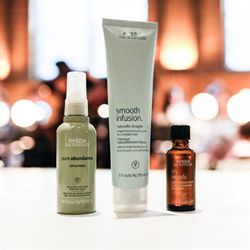 Finished Look: For smoother, softer hair incorporate Aveda Smooth Infusion™ Shampoo and Aveda Smooth Infusion™ Conditioner into your hair care routine.
All products listed are available at Rituals in Hair and Skin! If you need a demonstration by one of our stylists, book a blowdry today!