This is the newest product released from YonKa, which I can speak for all of us here at Rituals, we are VERY excited about it! This product is a skin cleansing and make-up removing micellar* water, which you can use on your face, eyes, and lips.
An intelligent water that is as soft as a cleansing milk, is fresh as a lotion (toner), combines the benefits of anti-free radical and soothing ingredients. In just ONE simple step, make-up removal and skin care are combined.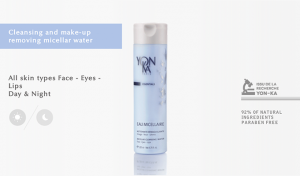 Eau Micellaire is suitable for all skin types, including sensitive skin that reacts when rinsed with water: this gentle and non-aggressive make-up remover respects the balance and tolerance of you skin. It is also and essential product for woman (and men) who want quick and efficient cleansing and make-up removal.
Instructions for use:
Morning and evening, apply the Eau Micellaire to face, eyes, and lips using a soft cotton ball/pad. Apply again until the cotton ball comes completely clean of any residue, make-up, oils, etc.
To remove eye make-up, leave the cotton ball in place for a moment to ensure all traces get saturated to help with elimination.
**This should not be in replace of your normal skin care routine. This product would be great for people on the go, at the gym, active or travelling, or even as a start up for someone who doesn't have a routine, and is looking for somewhere to start.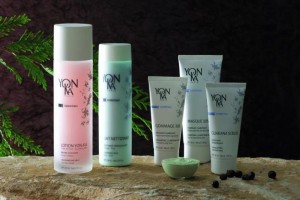 *Micelles are small surfactant particles. Each molecule has 2 parts; 1  that captures water and the second, captures oil soluble impurities. With the movement of wiping a cotton ball over your face, it will "open up" and liberate the micelles. The part that attracts oil will capture oily impurities present on the skins surface (pollution, sebum, make-up). Any dirt trapped inside the micelle then eliminated mechanically by the cotton ball.
This micellar technology allows for impeccable and gentle cleansing and make up removal for the face, eyes, and the lips with NO RINSING required!