Thanks to its exclusive complex with the immortality herb, Excellence Code Cream acts day and night on all the signs of aging
from 55 years onward.  Mature skin, made fragile by hormonal changes, will come alive thanks to this luscious and comfortable cream which fights off any signs of aging: dryness, loss of firmness and brightness, wrinkles, discoloration.  Your skin looks visibly younger, smooth, firmer and plumper, wrinkles fade away and your complexion is brighter and unblemished.
Application: In the morning and evening, apply the Excellence Code cream.
For a reinforced anti-aging effect, use the Cellular Code serum beforehand. With a new packaging design, you will receive the right dose of product, the best performance and good hygiene in it's airless jar.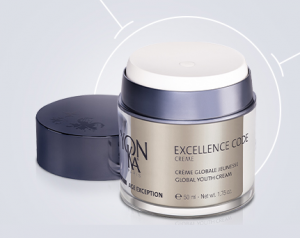 You can now enjoy the new Excellence Code facial treatment at Rituals. This facial targets mature skin using a youth-reveling anti-aging masque and the new Excellence Code creme. Book the new 75 minute facial and receive $15.00 off!