Bring your artistic vision to life with MUD's new eye colors! These highly pigmented matte colors deliver a vibratn blue in Deco and Flight, a decadent brown with Semisweet and the richness of purple royalty with Velvetine. Warm up your masterpiece with the sunset of Sedona, or cool down with the simplicity of stones in Statue and Pavement– or, keep it simple with a wash of white in Canvas. Let your brush tell a story that's never been told! 
Purchase a full MUD Make Up palette (4 or 8 hole) and receive 20% off for the month of November!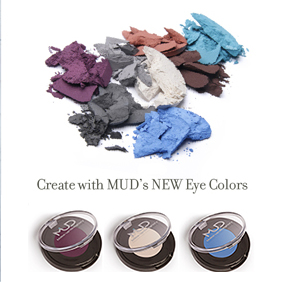 Bookmark and Share
Close
Bookmark and Share This Page
Link HTML:
Permalink:
If you like this then please subscribe to the
RSS Feed
.