What is BALAYAGE?
What is a Balayage? Balayage is a technique used to free hand paint bleach/lightener on hair. It is a very low maintenance hairstyle as the bleach (blonde) is fanned down away from the root. It is a technique used to embrace your natural root colour during the grow out period. Balayage is the most commonly requested hair service this summer so far. It is a very soft look, very blended, and adds a lot of dimension to the hair.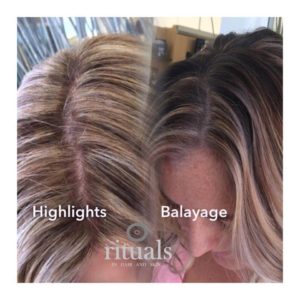 It is important to know the difference between balayage, ombre, sombre, and highlights when requesting a service as the outcome is very different. Here are photos to show the difference:
One of the key differences in these looks is how much blonde,  caramel or stronger colours you would like to see at the bottom of the hair. If you want it to be more solid, then that would be more of an ombre and if you like to see some darkness throughout that would be more of a balayage. If you want the blonde or colour to start as close to the scalp as possible and majority of the hair in packages/foils, then it is more of a set pattern of retouch highlights,  global(full head) highlights,  or combination highlights and low lights .
The pattern of application and amount of time it would take to achieve these looks will be longer overall, especially the first application.  A consultation would be a good idea if you are wanting to get a better picture of what you should budget for these techniques and how much time you need to make available to book an appointment.