Blinc cosmetics was founded in 1999 with a mission to solve beauty problems by perfecting beauty products. Known across the world for our superior line of mascara, Blinc is headquartered in Boca Raton, Florida, and currently markets its products in more than 30 countries, continuing to expand internationally more and more each year.
This exceptional line of products includes eyeliner, eyebrow mousse, eyeshadow primer, long lash product, and mascara. Blinc products are unique because their concepts offer a dramatic leap from solutions that existed before, placing them among the best in the world in their respective categories.
Mascara: If you're looking for a no-hassle, no-smudge mascara that you can take throughout your day with no re-application, Blinc mascara is your answer. Instead of painting your lashes like conventional mascaras, Blinc mascara forms tiny no-smudge, water-resistant "tubes" around your lashes. Only when you are ready for removal, the tubes will effortlessly slide off your lashes into your hand without the use of a harsh makeup remover. The mascara is available in black, dark brown, medium brown, dark blue, dark purple and dark green.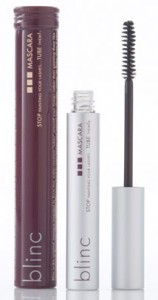 Eyeliner: Recently rated as a "beauty breakthrough" by PREVENTION Magazine, Blinc offers this innovative water resistant, no-smudge eyeliner. Liquid and easily applied, Blinc eyeliner forms a water-resistant layer of color that contours to your eyes. Only when you are ready for removal, the layer of color will effortlessly slide off your skin into your hand. No harsh makeup removers required for this eye liner. The eyeliner comes in black, brown, grey and blue.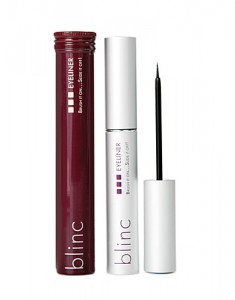 Eyebrow Mousse: Blinc's Fountain of Youthful Color® Eyebrow Mousse™ is a unique and innovative brow makeup designed to give enhancing, water-resistant and moisturizing color to your eyebrows. Once applied, Blinc Eyebrow Mousse™ fills in sparse areas to create the perfect brow line that cannot fade, run, or smudge, even if you sweat or wear it in harsh weather conditions. In addition to the unparalleled hold of Blinc Eyebrow Mousse™, the innovative brow makeup also contains a peptide to moisturize and provide anti-aging treatment to the skin beneath your brow. The mousse comes in light, medium and dark blonde, light and dark brunette, auburn and black.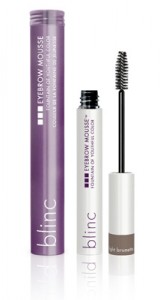 For more information visit the Blinc website at: http://www.blincinc.com/cad/