Ponytails are like jeans: classic, effortless, flattering and you can throw 'em on with whatever you're wearing. While we'll never tire of our ponytails, sometimes we find ourselves grasping our 'do, wishing there was a little more to it. If you've ever dreamt of a longer, fuller ponytail—grab onto the edge of your seat because we're about to bring you one tested trick that will change your pony game forever in four quick steps.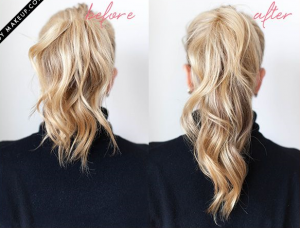 Shake out your locks and tell yourself 

"you're worth it

" (preferably in a dramatic accent).

 

Next, curl the ends of your hair if you strands are feeling a little lackluster on their own. The more volume, the better with this look. 

Secure the top half of your hair into a ponytail.
Take the remainder of your hair and form a second ponytail, closer to the bottom of your head. The further away from your first pony, the longer your hair will look—but don't got too far as the separation will show.
Fluff your top pony and twist the two together, making sure your bottom ponytail's hidden.
The before and after is pretty amazing, right?