Most women would love a head full of thick and luxurious hair. Thanks to Aveda Thickening Tonic Styling Spray, virtually every individual can increase hair's volume and create a stunning new look.
Achieving fuller hair is far easier when using Aveda products powered by botanicals. Thanks to the inclusion of the amlan ayurvedic herb, Aveda has developed a styling spray that can instantly create fuller, thicker hair strand by strand. This is in contrast to similar products, which can weigh down hair thanks to thick and clumpy formulas. Conversely, Aveda's innovative thickening formula can afford the volume you demand while also keeping hair healthy.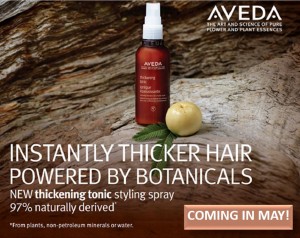 Follow the steps in the video below to get thick hair with the Aveda Thickening Tonic.