Nail stickers are the saving grace of shaky handed beauty girls and nail perfectionists everywhere. No bubbles, no chips, no polish all over the finger tips–but most sticker sets come with 18 appliques…not quite enough for two full manicures, which forces us to get creative. Thus for the resourceful nail art enthusiast, we give you three chic ways to wear your leftover nail stickers.
1. Stripes: paint a base color onto your nails. Cut your leftovers into the thickness and length you want and lay them diagonally, horozontally or vertically. Layer the stickers over each other for a more artistic look!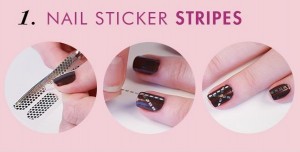 2. Cut out: Dig out your scrapbooking supplies and put that decorative hole punch to good use. Punch a nail stick, place it on the nail, et voilá you've found the perfect accent to your manicure.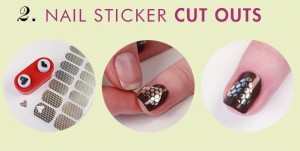 3. French Tips: Until they come out with patterned nail polish, nail stickers are the best way to upgrade your basic French manicure. Just cut the top off of a sticker, press it onto the nail, and file off the excess.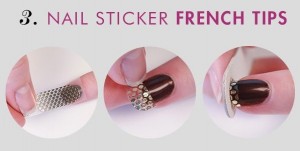 Don't limit yourself to just these options! Think outside of the box and make up your own nail art with leftover nail stickers! If you need to stock up on Jamberry nail stickers, we have stock in salon or they can be ordered online through Rituals for Buy 3, get 1 Free!