Brush on Fibre Lash Extensions is an exciting new concept in eyelash extensions that doesn't require any glue or false lashes. The eyelash extensions are lightweight, comfortable to wear and can easily be applied in 60 seconds.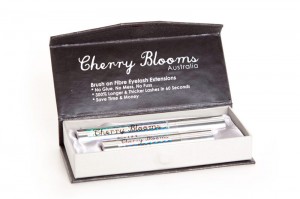 How Does it Work?
Cherry Blooms Fibre Lash Extensions are lightweight and just as easy as applying normal mascara. The kit includes two tubes; the transplanting mascara gel and a tube of dry nylon black fibres which stick on the the beeswax mascara making it look like you are wearing false eyelashes.
The brush-on fibres are lightweight, adhere to your own lashes and act like instant lash extensions. It dramatically creates 300% longer and thicker lashes within seconds. The fibres easily wash off with warm water and a cotton ball, but can be worn for many days until it is washed off.
Features & Benefits 
Water proof
Easy to apply and remove
Comfortable to wear
Light weight
No glue needed
Suitable for those with sensitive eyes and contact lens wearers
No dry brittle lashes
Our Beeswax is Better
Ours stimulates lash growth; as a good beeswax helps cells regenerate faster
Our beeswax has a higher percentage of potency than others, meaning fibres will stick on lashes and not fall on your face or eyeballs
Ours has antibacterial properties so it doesn't breed bacteria and has a longer shelf life
Ours has high moisturising properties acting like a leave-in conditioner for your lashes and it won't leave you with dry brittle lashes
Compare with Eyelash Extensions:
Cost: the Cherry Blooms kit (transplanting gel and fibres) costs $50.00. Basic eyelash extensions in Winnipeg, on average, cost about $150.00 for a set.
Maintenance: Cherry Blooms can be washed off at the end of the night and reapplied whenever you want a more dramatic look. Eyelash extensions last about 2-3 weeks and will need to be filled for about $60.00.
Time: Cherry blooms take about 1 minute to apply. Eyelash extensions take about 1 1/2 hours for a full set and another hour for a fill every 3 weeks.
Overall, Cherry Blooms take less time, are low maintenance and cost less than getting traditional eyelash extensions. The beeswax in Cherry Blooms also helps to condition and promote growth of your lashes, instead of using glue that has harsh chemicals.