Yon Ka Skincare has announced the introduction of a wonderful new serum in one of their specialty categories, Anti Aging. This product is designed to address numerous, undesirable skin issues that are common in mature skin types. With regular use, newly developed Yon Ka Age Exception Cellular Code Long Life Infusion Serum provides the skin with vitality and youthfulness.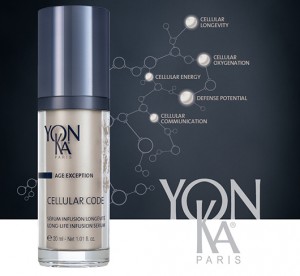 The science behind the natural ingredient deck included in this new serum is the powerhouse capability of cellular reprogramming within skin tissue. Mature skin needs critical defense capabilities and increased cellular communication to improve. Restorative cellular healing and energy is enhanced with ATP production in the skin cells. This powerful action improves skin and defends it against the aging process.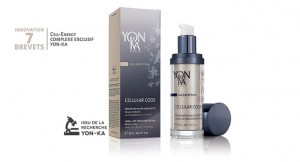 How to Use: 
Morning and/or evening, after cleansing and spraying with LOTION YON-KA, apply the serum (2 to 3 pumps) to the face and neck, before your usual cream. Avoid the eyes.
For the month of November, Yonka Cellular Code is $15.00 off! (Regular: $148.00)