Its that time of year again: sandal season! the first step (no pun intended!) to getting ready is to get a pedicure! Book a manicure and pedicure combo at Rituals for $70 with Amanda, Lisa, or Alexandra! The second step is to take care of your feet after your pedicure. We recommend the Gehwol Salve cream to help keep your feet soft and to avoid any cracks.
The salve is based on a well-tried mixture of special soaps and selected skin friendly oils. It is used best for severe hard skin, dry or rough skin, or very cracked skin. This salve helps protect against inflammation and symptoms linked with cracked skin. By regular use the skin will regain its natural elasticity and resistibility and will be protected.
Medicated soap, lanolin, and Vaseline soften hard skin quickly and keep it smooth while Bisabolol and panthenol help clear up small skin cracks. The blood flow is stimulated by eucalyptus, lavender, rosemary, and camphor and menthol cools and refreshes.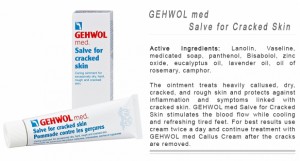 Dermatologist tested, and recommended, and also suitable for diabetics.
Active Ingredients: Lanolin, Vaseline, medicated soap, panthenol, Bisabolol, zinc oxide, eucalyptus oil, lavender oil, oil of rosemary, menthol, and camphor.
You could also try Gehwol Lipidro Creme!
The high quality ingredients compensate the lack of lipids and moisture and naturally balance the protective properties of the skin. Urea binds water in the deep skin layers while callouses are softened and excessive reformation is reduced. Sea buckthorn oil and avocado oil with a high amount of unsaturated fatty acids supply dry skin with the lipids it lacks and thus prevents the loss of moisture through evaporation. This effect is supported by a special algae extract. The cream also helps protect against itching and fungal infections.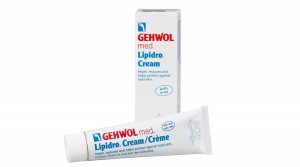 FDA approved.
Free from fragrances. Dermatologist tested. Suitable for Eczema sufferers. 
Active Ingredients:Skin friendly treatment emulsion with avocado oil, sea buckthorn oil, urea, glycerin, algae extracts, Allantoin, and farnesol.