Yonka is a French skin care brand boen in 1954 Multaler Laboratories, pioneers and leaders in aromatherapy. Imagined and developed by a family driven by a passion for botanicals, Yonka focuses on skin care for face body and sun, for men and women.
Yonka sun care can be worn everyday on your face and/or body for little to a lot of sun exposure. Their sun care line is non-comedogenic, making it perfect for everyday use that won't cause you to breakout, and contains anti-aging properties as well.
SPF 20 Sunscreen Spray: the face and body spray can be used on all skin types for moderate sun exposure.
With a fine light texture, this protecting cream is recommended for an easy, quick tan and during light exposure to sun.
Filters UVA and UVB, maintains hydration of the skin, aids the combat against free-radicals.
Prevents sun related aging and pigmentation spots.
Vitamin B5 provides ample hydration, healing and anti-inflammatory protection.

SPF 25 Sunscreen Cream: medium sun protection for face and sensitive areas.
Recommended for fair complexions in moderate sunshine.
Suitable for darker skin during intense sun exposure.
It can also be used for a daily reinforced photo-protection.
Great for use on children.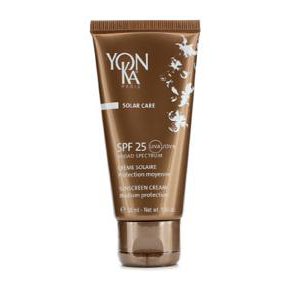 SPF 50 Sunscreen Cream: high sun protection for the face and sensitive areas.
The highest level of sun protection in the Yonka line.
Exceptional anti-oxidant protection from tea polyphenols.
Suitable for children.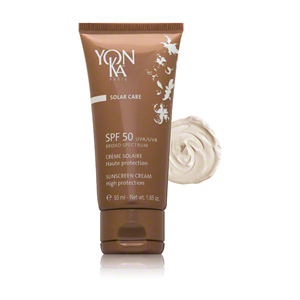 Application for all: Apply generously before any exposure. Renew the application at least every 2 hours and after swimming or perspiration, concentrate on the areas that are particularly sensitive or are exposed to sun.
SPF 20,25 and 50 can be worn daily on your face or body and won't clog your pores. They are perfect for all day sun protection that can be worn under make up and won't leave your skin greasy! The sun care line contains anti aging properties and can be used on all skin types and skin tones.