By now we've all heard about the perils of washing our hair every day. We're aware of the lovely over-drying effect it causes and the stripping of essential oils that can also result. Despite our wealth of knowledge on the topic, we still find ourselves scrubbing those locks every morning or night for some reason or other. So, let's go over this again — stop washing your hair every day! In addition to stressing out your hair, you're also wasting water! OK, we are not in the business of lecturing here, so we chose to lead by example. To help you wean yourself off your overwashing ways, we wanted to present a little hair challenge. Go three whole days without washing your hair! The first day is easy-peasy, as our hair is freshly washed and lovely, but stay tuned on how we manage as the challenge progresses. 
Day One:
If your hair is fine and/or thin, try to use a little less product and focus on keeping your hair straight. Also focus on keeping the product you are using on your ends! This will help your hair not feel super oily on your third day!
For coarse, thick hair focus on natural waves! Use a medium hold gel and use a diffuser to dry your hair.
Using a curling iron can also help you last 3 days without washing! Just make sure you don't over due it with product.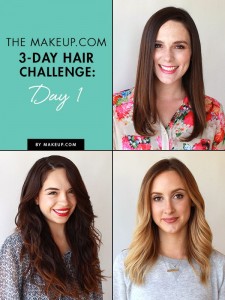 Day Two:
All hair textures can benefit from using a dry shampoo! At day two, fine hair can start to look a little stringy, so spray your dry shampoo throughout focusing on your roots.
Ponytails are a great option to keep your hair off your face is you're feeling a little overwhelmed by the challenge! Add some detail to your pony by adding braids or leaving some whispy pieces out.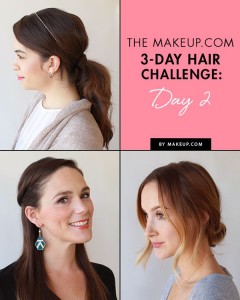 Day 3:
If you're feeling extra greasy, style your hair into a messy, textured bun! apply a texturizer to your ends and make sure your bun has volume and isn't flat!
If you need to hide an oily hairline, create a braid through your fringe! This will give your limp hair some life and keep your updo interesting.